When reproducing this bodice it was important to me to retain the aesthetic effect of its current state rather than trying to determine how it might have originally looked. I therefore retained the altered neckline, its asymmetrical trim, and the trim seen on the sleeve foreparts and at center front. I also wanted to retain the color of the garment. This required dyeing both a silk damask and a silk faille. The specific sage and olive green dyes were mixed to match the printed crepe that was used as the neckline trim. Because I could not find a chenille tinsel, another metallic trim was chosen and dyed for the spiral element on the sleeve foreparts.
When reproducing a historical garment, one must usually adjust the pattern to fit a different size or shape of body. The original garment from the Costar collection was constructed for a large woman with a full bust and abdomen. I chose to reproduce the garment for a petite, narrow figure for the challenge of retaining the proportion of the color-blocking and the leg-o-mutton sleeves when one has less space on the body on which to feature those elements. The completed reproduction can be seen on a model in Figures 1, 2, and 3.
| | | |
| --- | --- | --- |
| Figure 1: Reproduction Front | Figure 2: Reproduction Side | Figure 3: Reproduction Back |
| | | |

Structurally, the reproduction is very similar to the original. The bone placement is based on the original bodice, though the bones are spiral steel rather than baleine. The center front opening features flat steel bones on both sides. The seam allowance is bound with nylon hem tape by hand. The reproduction bodice does not feature hooks on the interior of the waist or eyes on the exterior near the hem, as there is no accompanying skirt to which it needs to be attached. The interior finishing of the reproduction can be seen in Figure 4 below.
Figure 4: Interior of Reproduction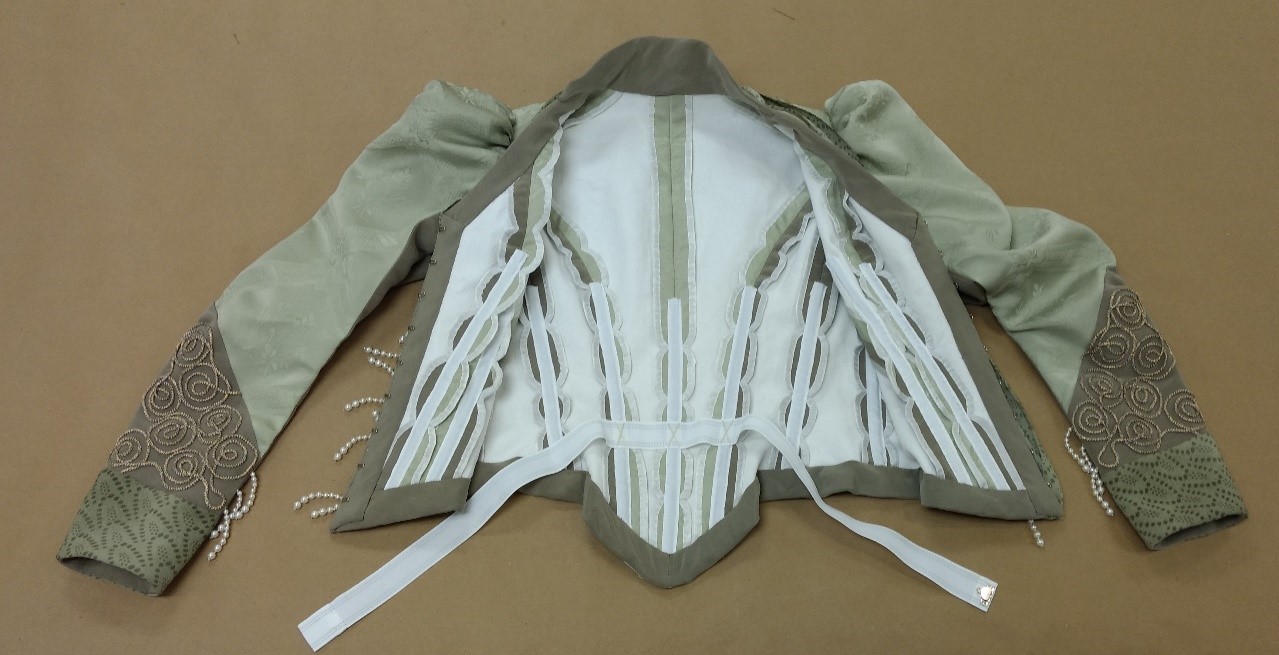 © Emily Plonski, 2017