Reproduction
To recreate this garment black silk faille was used. The faille is heavier than the fabric of the original garment because it is not possible to find such thinly made faille today. The flat-lining fabric is a black twill. The polka dot accent fabric was a lining fabric due to the inaccessibility of a jacquard similar enough to the one used on the original garment. To give it more stability Tricot fusible interfacing was adhered to the back. This helped keep the pleats crisp. Spherical buttons were sourced for the reproduction. These buttons are proportional to the original buttons. The original buttons were about 3/8" wide and the reproduction buttons are 7/16" wide.
| | |
| --- | --- |
| Figure 1: Reproduction Front | Figure 2: Reproduction Back |
| | |

The original garment was made for a waist corseted to 22 1/4" around. The reproduction is made for a figure corseted to a 26 1/2" waist. The pattern for the reproduction was draped on a form compressed with a reproduction of an 1890 corset, which can be seen in Figure 3 below.

The style lines of the bodice are the same as the original garment, while keeping everything proportional to a modern form (it was made to fit myself). The pleats at center front were made wider, but cover the same amount of space proportionally as the original garment. The returns of the pleats are larger to make it easier to control them. The sleeve has a gusset to allow for a wider range of movement by the wearer.
Figure 3: Corset Reproduction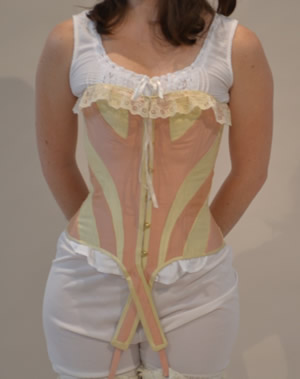 The pleats at the center back were made wider for the reproduction. The original pleats are 2 inches wide, but the reproduction pleats are 4 inches wide. This change is due to the curved side back seamline. To create the same curve as the original garment and have the pleats lay nicely over her hips the bottom of the center back panel had to be made wider, thus creating wider pleats.

To keep the integrity of the interior of the garment, the fisheye darts were not clipped. They laid flat without having to be clipped. The curved waist darts were also kept intact. Instead of splitting them and laying bone casings on top of the created seam allowance the bones were slid inside the return of the dart. A backstitch was used to create a channel in the return so the bone didn't slide around. This also means the garment is more alterable in the future which is more preferable in theatre.
The bodice is constructed to be worn over a skirt and small bum pad would be inserted to splay the pleats.
© Erin R. Abbenante, 2016