This reproduction is on the right in both Figures 1 and 2 below, photographed next to the original. It was made in indigo silk velvet with a silk chiffon front. The main bodice pieces were flat-lined with cotton. There are two layers of silk on the plastron: the surface layer is silk chiffon and the middle layer is China silk. The base layer of the plastron is cotton which was dyed to match the velvet. The trim and lace bow appliques were also dyed to match.
| | |
| --- | --- |
| Figure 1: Fronts | Figure 2: Backs |
| | |
The appliques on the collar were dyed to match the silk chiffon plastron.
Figure 3: Collar Detail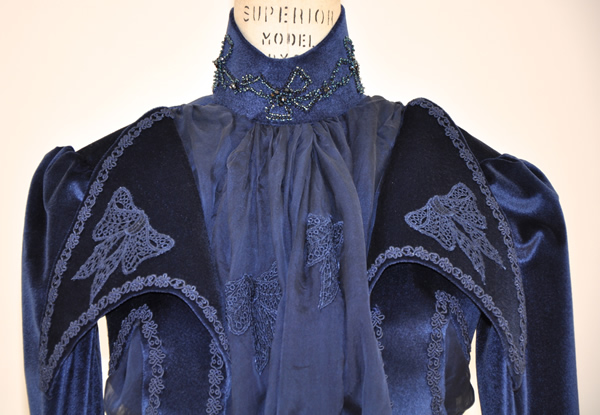 The beading detail on the neckline was done by hand from a template taken from the original.
Figure 4: Beading Detail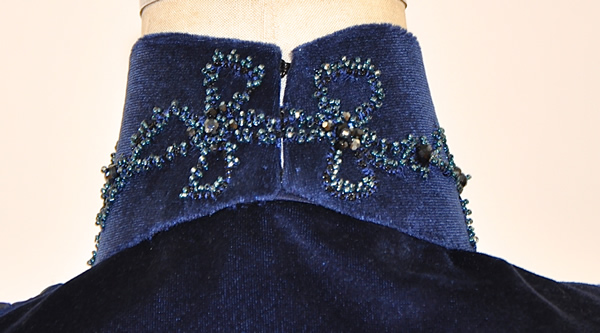 The reproduction was made for a standard size 2. Pins were placed along all of the the seam lines on the original garment after which each piece was laid out as flat as possible, one piece at a time. With paper placed underneath, a tracing was made to get the shape of each piece. Once every pattern piece had been traced, it was "trued" to be sure that the pattern pieces lined up with each other.
Once the pattern pieces were correct, the pattern was copied (retaining the original) and adjustments were made to to fit my own body measurements wearing a corset. About 2" was added throughout to make the bodice fit a modern body wearing a corset.

Once that process was done, a mock-up was made after which additional shaping occurred. The specific shaping of the bodice required two mock-ups before a shape as close to the original as possible while still fitting a modern body. Significant adjustments needed to be made even when translating the mockup into the actual fabric there were some major adjustments to be made. The end result achieved the goal of looking very similar to the original and fitting the maker.


Figure 5: Reproduction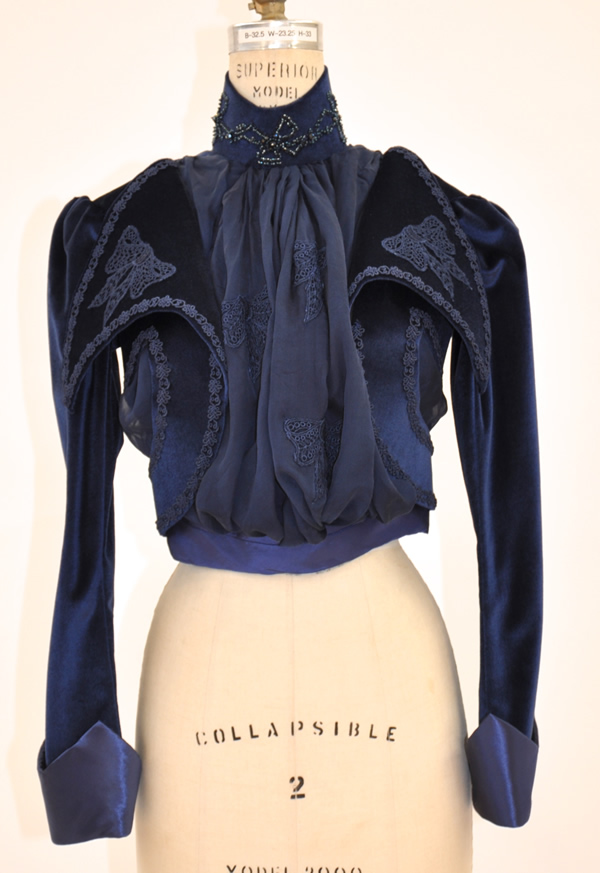 © Denise Ann Dietrich Chukhina, 2014