Reproduction
| | |
| --- | --- |
| Figure 1: Front | Figure 2: Back |
| | |
Very little structural change was made from the original garment to the reproduction. The bodice fit well on a modern size two, so the reproduction remained essentially the same. The pattern drafts connected with this project are drafted from the original bodice. The only change that was made was the center front foundation. In the original, the center front is curved to allow for more shaping at the waist. In the reproduction, the front was cut on the straight of grain and the shaping was moved into the first dart. The darts of the primary bodice have straight legs, but in the reproduction, the first dart bows out before returning to the same points at the waist.
A choice was made to cover the entire inner sleeve with the fashion fabric instead of stopping just above the elbow. Conservation of fabric was not a concern with the reproduction although that may have been true for the original. The majority of changes made were related to fabric and notions, due to limitations in resources, and included using polyester instead of silk. The fabric used for the exterior was one of the few light-weight taffetas possible to find online. It is polyester with green flocking, which gives it a slightly heavier hand to the reproduction than the original had, although the color and pattern retain the aesthetic of the original. There was too little of the lace remaining at the bib to really know what it looked like, so in choosing this layer, the aesthetics and overall look were considered. The textured weave led to the decision to use the flocked netting to create some sense of dimension. The ideal fabric for the foundation layer would be a chintz, a glazed cotton often with a calico print, but a cotton-polyester blend with a shiny finish on one side was an appropriate substitute.
Some changes were made based on modern conveniences. The bones, instead of a fibrous cord, are steel in casings that were created. Instead of overcasting seam allowances an industrial serger was used. In an attempt to save time, instead of sewing all 16 pairs of hooks and eyes at center front individually, hook-and-eye tape was slip-stitched onto the garment. In keeping with the original bodice, all the decorative ribbon was sewn by hand. Hand-stitching allowed for better control and a smoother finish than machine stitching could produce.
Figure 3: Reproduction Interior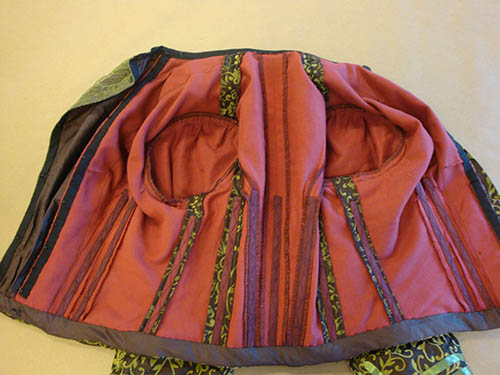 © Kelly Renko-Clarkson, 2014