The reproduction bodice was made from pink silk, cotton bobbinette, and polyester lace. It was lined with silk organza and cotton muslin as in the extant bodice. The velvet ribbon and soutache, made of nylon, were dyed to match the original colors. The reproduction was made for a standard dress form size 10 using a paper pattern taken off the original bodice and expanded to be the correct measurements.
To allow for easier alteration in the reproduction bodice, all of the pattern pieces were flat-lined to their lining and then the edges were serged prior to being stitched together. For the convenience of a modern wearer, the back closures were updated, using a zipper in the bodice and hooks and bars on the yoke and collar.
To allow additional movement, the sleeves are set into the armhole at a higher point on the shoulder and the lower part of the sleeves were made to fit more loosely between the wrist and elbow.
Figure 1: Front of the Original and Reproduction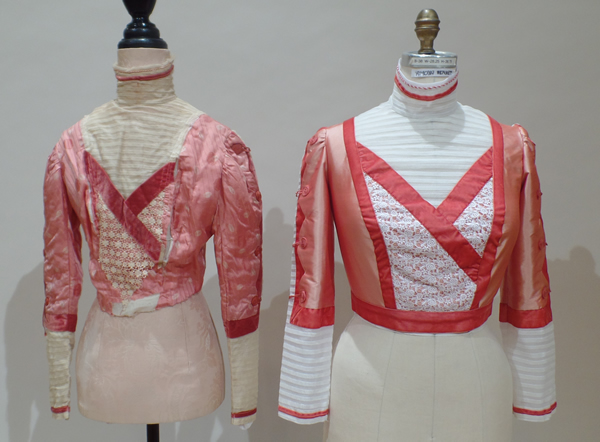 Velvet ribbon was added on the front and back princess seams, extending over the shoulder, as was indicated on the original bodice through faded scars left from the original stitching. The velvet belt and narrow velvet band were added as an aesthetic choice to make the bodice more cohesive.
Figure 2: Back of the Original and Reproduction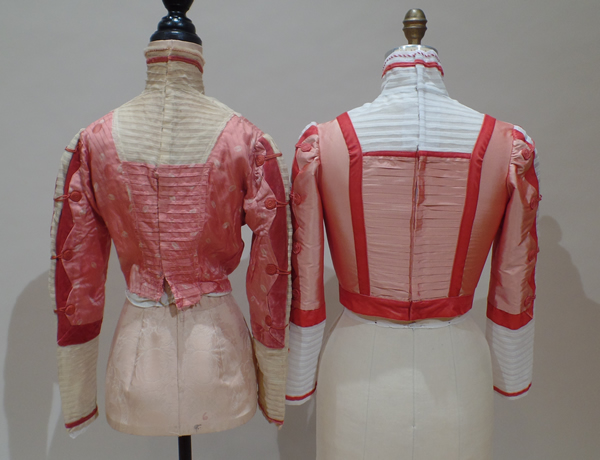 © Corinne Anneliese Hodges Doss, 2016